SKATE
SHARPENING + PROFILING
There is no "right" or "wrong" radius, it all comes down to what is most comfortable for you and your skating style. To begin, let's take a look at what different radii look like on the bottom of your skate blade.
A sharper radius of hollow (1/2'' – 3/8'') will give you more bite into the ice for tighter turns and push for acceleration, but at the same time because your edges are digging deeper into the ice which causes greater friction, your glide and speed will suffer.
A lighter radius of hollow (1'' – 5/8'') therefore gives you greater glide and speed causing less fatigue, but less bite in the ice for maneuverability, so choose which advantages are more important for you and your skating style.
Ask our professional staff at Toronto Pro Sports Excellence to determine which radius is best suited to help improve your game!
MAXIMIZE YOUR SPEED
The "finish" of your skate blade refers to how smooth and clean the bottom of your skate blade is after sharpening, which directly affects glide and speed. Our mirror polish finish will help you achieve the ultimate smooth glide on the ice.
ACHIEVE EVEN EDGES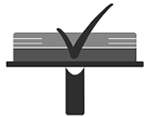 Even edges are crucial to the performance of your skating. If your skates have uneven edges, the "higher" edge will seem way too sharp, while the "lower edge" will seem too dull, resulting in loss of edging and control.
Come in and see why Toronto Pro Sports Excellence is Vaughan's Best Skate Sharpening!
CUSTOM RADIUS PROFILING AND CONTOURING
BLADEMASTER CONTOURING

The radius of the skate is actually a portion of a circle ground onto the blade. The length of the radius controls the amount of blade in contact with the ice surface.
A skater's correct radius is a balance between maneuverability and stability resulting in maximum control of edges and balance, addition of speed and reduced muscle fatigue. At Toronto Pro, we perform our Custom Radius Profiles specific to the skater's requirements regardless of the position they play.
The ProSharp AS2001 Profiling Machine is the most technologically advanced machine on the market.
This machine allows for up to four profile zones, maximizing every inch of your blade and improving acceleration, speed, agility and stability.
This is the future of blade profiling and is currently used by many NHL players.​
THREE KEY PROSHARP PROFILES
Quad Profiles – Made for a powerful controlled skater, looking for increased stabilityand smoother transitions. (ie: Elias Pettersson)​
Zuperior (Triple) Profiles – Made for an aggressive, agile skater looking for fast starts, tight turns and quick change in direction with an optimal center push radius for speed. (ie: Mitch Marner)
Dual Radius Profile– Allows the skater to enjoy the best from a short and long radius. Also, it helps the skater be more versatile on their skates. A combo-profile has a small radius in the front part of the blade to increase acceleration and a long radius in the back of the blade for better balance and speed. (i.e: Auston Matthews)
INQUIRE TODAY AND LET US INFORM YOU ABOUT WHAT CONTOUR/PROFILE WILL HELP IMPROVE YOUR GAME
905 264 4433